Passing of Engineer Zuniga
It is with our deepest sorrow that we inform you of the death of James Zuniga on January 2, 2019. Better known as Jim or Jimmy to his family and friends, he was a friend to many and lifelong resident of the Woodland.
He had a passion for his community and demonstrated a commitment to service early on by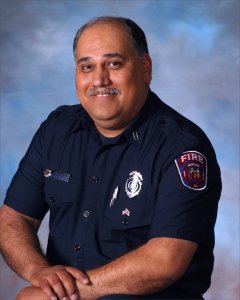 becoming a Woodland Fire Cadet at age 13. At 22, he began his fire service career working for the Florin Fire Department for two years, and later joined the Woodland Fire Department, where he served for 28 more years. He retired from Woodland Fire Department with 30 years of fire service. After he retired he continued to teach EMT classes at Solano Community College. Many of the students he taught at Solano and Woodland Community College would later serve alongside him as firefighter. Jim will be remembered for his kindness, his humor and his loyalty. He will be deeply missed by all who knew him.
A Rosary will take place at 10am on Tuesday, Jan. 15, at the Holy Rosary Catholic Church, 301 Walnut St., Woodland. Services will take place at 10:30 a.m., also on Jan. 15 at Holy Rosary Catholic Church. A memorial reception will take place immediately following ceremony at Fire Station 3, 1550 Springlake Court, Woodland, until 2 p.m.
Current and retired fire department personnel are encouraged to wear their duty uniforms or Class A uniforms as there will be a "Sea of Blue" at the end of the ceremony to say goodbye to our friend. We will be requesting to not have any off duty apparatus at the event.
In lieu of flowers, donations may be made in Jim's name to the Woodland Professional Firefighters Association.
If you have any questions, please contact the Woodland Fire Department Honor Guard so as help the family maintain their privacy at this time. They can be reached at (530) 979-1307 (Sam Kennedy) or visit www.facebook.com/events/333722280688159/?ti=ia
https://www.wpfa4029.org/wp-content/uploads/2019/01/Zuniga2-e1546969053963.jpg
129
200
Chris Delcour
https://www.wpfa4029.org/wp-content/uploads/2018/04/iaff_logo.png
Chris Delcour
2019-01-08 01:43:08
2019-01-08 17:28:00
Passing of Engineer Zuniga